Click on any of our scuba shop services for more details:
Drysuit Repairs and Customization
Several years ago, out of necessity, we started repairing drysuits for ourselves and our friends. Not to brag, but we've gotten pretty good at it. We replace drysuit neck seals, wrist seals, boots, socks and the occasional zipper. We do leak tests and leak repair. We also can help you customize your drysuit with extra pockets or a relief valve. Send us an email for a free quote.


Light Repairs

Moonlight Scuba is an authorized service center for Ano Underwater Lights. Send us an email for a free quote.



Scuba Tank Fills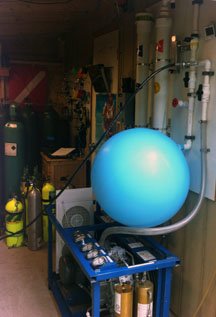 Moonlight Scuba offers a full line of scuba tank fills with our full service mixing and blending station. We offer everything from OCA air for recreational scuba divers to custom Nitrox blends as well as Normoxic and Hypoxic Trimix fills for more technical and advanced divers. We also offer custom deco gasses up to 100% oxygen. We bank 32% Nitrox for quicker service.

We offer a wide variety of air fill packages for all levels of divers. All gas is sold by the cubic foot, with a minimum charge of $6 per fill. We offer packages of fills at discounted prices. View our fill packages here.